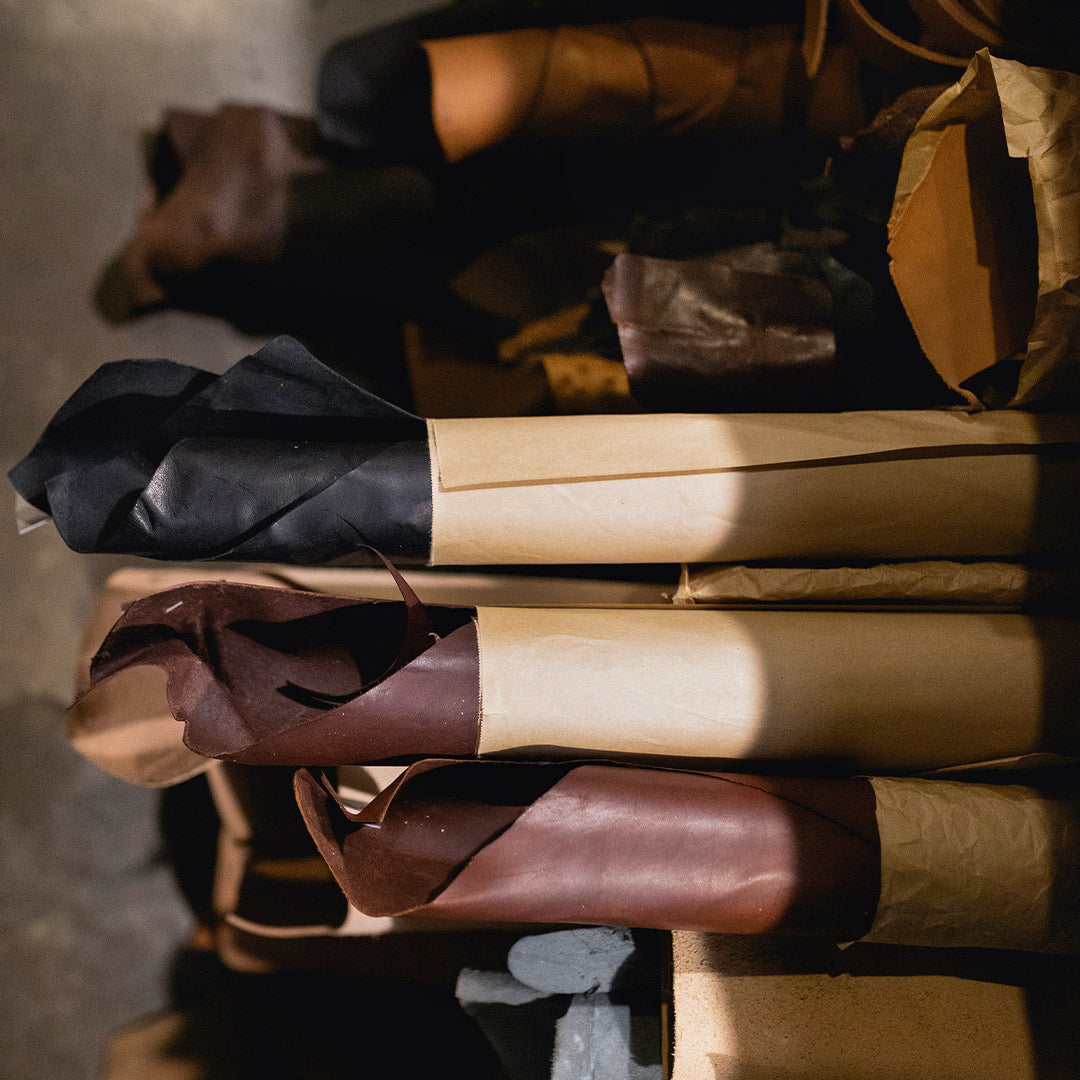 Our Leather
A product is only as good as the material it's made from. Leather is the backbone of all Hassett designs, and it's why we almost exclusively craft our goods from vegetable tanned (veg-tanned) leather.
Vegetable tanning is a slow and deliberate technique that allows the material to evolve beautifully over time – it dates back thousands of years, and varies by region and culture. Our leather is also, always, Full Grain – the highest quality grade sourced from the top layer of the hide and including all the natural grain.
Collapsible content
Cow Hide

Hassett belts are constructed from an elegant and durable leather made from cold climate cattle. We select this leather due to its denser grain and unique colourations, and it is tanned at the iconic Masure Tannery, Belgium. Masure has been operational for over 150 years, and operates in accordance with EU REACH regulations, implementing innovative, sustainably driven tanning processes that respect the nature of such fragile resources.
Kangaroo Leather

Kangaroo leather is a high-strength, lightweight and durable material, ideal for layering into wallets without the need for synthetic lining. Our Australian Kangaroo leather is sourced from Packer Leather, Queensland. It is an abundant and more sustainable resource than cow leather, as well as being veg-tanned and full of natural character.
Crocodile Leather

Crocodylus Porouses (or saltwater crocodile) is revered as one of the most luxurious and desirable leathers in the world, recognisable for its distinct scale pattern and durability. Our crocodile leather is sourced locally from a farm in Cairns, Queensland.
Suede

Hassett's suede products are crafted from Charles Stead Full Grain suede, sourced from their old English tannery. It is the top layer, or Full Grain portion of the hide, turned upside down – allowing for a beautiful 'tight' suede nap with much superior strength compared to most split suedes.
Ostrich

Our ostrich leather is considered some of the highest quality in the world, and is farmed and tanned in Victoria, Australia.
Shark

Sharkskin is an exotic leather identified by its deep grain and durability. Hassett's sharkskin materials are sourced from a reputable US supplier of guaranteed non-endangered / non-threatened species in the American Gulf.